Free wood chips
(mulch) are available to clients located in the Dallas/ Fort Worth metro area. The tree mulch makes great use for gardening, flowerbeds, tree beds, playgrounds, parking areas and many other countless uses. Mulch can be used around the trunk of trees, it will benefit trees by helping roots stay warm during the cold and keep roots cool during the summer time. Trees that are cut down because of decease reason are not included in the load of mulch. They are taken to a place that handles debris only that keeps it stored in a certain are for months and over time ends up killing any infections that it once had. Keep in mind that loads will have tree leaves mixed with the wood chips but over time the leaves brown off.
Clients must take a full load of wood chips that is approximately 14ft long, 5ft tall and 7 ft wide of mulch. This is the size of our chipper truck pictured below on this page. We can deliver the mulch for free if property is located within 8 miles of our working site. The way it works is first fill out the contact information in our contact us page and let us know you want mulch. We will save your information until we have a jobsite close to your home or business to make it convenient for both of us in dropping off the load free of charge. We will contact you when we are working in your area to inform you when to expect the load of mulch. There must be an overhead clearance of 20 feet and must be accessible by a 13 ton truck.
If interested in the free tree mulch, please only fill out the online request located in the "contact us" page in our website. This will help reduce the call volume we receive to only tree service requests. Thank you for your interest in this free mulch. This is a great way to make good use of the tree limbs that get processed in our wood chipper.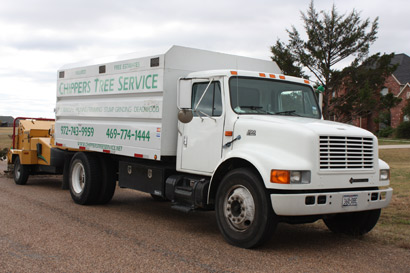 For a FREE estimate, give us a call at (972) 743-9959 or fill out the online contact form and you will be contacted within 24 hours. Thanks for visiting our website! We look forward to servicing your tree needs.
Tree Services we offer: Tree pruning, tree trimming, tree removal, crown cleaning, crown thinning, crown reduction, shrubbery trimming, stump removal, stump grinding, brush chipping, emergency and cleanup services.